Forward
This excerpt was taken from an unpublished paper written during my first encounters with Autodynamics. Even though I wrote this quite some time ago, some readers may find the simple level of explanation helpful in understanding the original and new Radium E experiments.
by David de Hilster
Searching For Proof
Because special relativity is good enough to describe most cases in today's physical world, it is easy to understand why no one has questioned Einstein's equations. Einstein's equations are not useless. They have been corroborated by many experimental results. In fact, all physics theories are still useful today within well-defined frameworks. Newton's classical equations still are used in with great success in space, military, and transport industries with spectacular results. Space probes pass within kilometers of their target millions of miles from the earth without ever using Einstein's equations. Einstein's equations work perfectly well for particle accelerators (atom smashers) and electromagnetic fields.
Ricardo began the difficult work of finding an experiment that Autodynamics could explain and special relativity could not. During his years in Argentina, he spent his weekends in university libraries pouring over experiments that erroneously applied special relativity equations to decay cases. In 1952, he finally found what he was looking for: the Radium E (RaE) experiment.
In 1927, two physicists, C. D. Ellis and W. A. Wooster, set out to measure the energy given off by Radium E decaying into Polonium. The experiment was simple: place the most pure form or RaE available at the time into a calorimeter and measure the output. Beta decay was well understood at the time: each RaE atom naturally decays into one electron and one proton. The electron is emitted at a high velocity and the proton is recaptured by the atom to become a Polonium atom. The half life of this process is five days, meaning, it takes 5 days for half of any amount of RaE to transform into Polonium.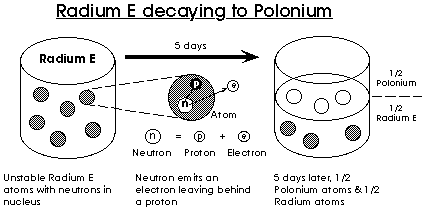 Electrons in the inner-most part of the RaE sample collide into other atoms on their journey to the surface. Since the number of atoms in the sample is also known, Ellis and Wooster only had to measure the heat given off by the Radium E sample to discover the amount of energy emitted in the process of decay. From experimental results, they calculated that each RaE atom naturally emits 0.36 MeV: exactly equivalent to the energy of one electron.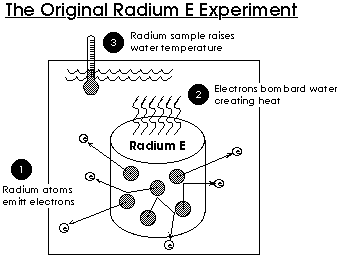 It is important to remember that Ellis and Wooster were not interested in confirming or refuting special relativity. They did not use Einstein's equations in their calculations. They were only interested in discovering the total amount of energy generated in the experiment. Once the experiment was performed, they moved on to other research.
During the next few years, other physicists carried out numerous related experiments, more or less confirming Ellis and Wooster's initial findings. Several of the physicists performing similar experiments used a mass spectrograph to measure the velocity of the Radium E emitted electrons allowing them to apply Einstein's special relativity equation to calculate the total energy. In 1931, Viennese physicist Wolfgang Pauli, a strong proponent of Einstein's latest theory, compared these later studies to the original Ellis and Wooster experiment and noticed a discrepancy. From Einstein's equations, Pauli saw that each Radium atom should emit 1.16 MeV: almost 3 times what was measured by Ellis and Wooster's experiment.
Believing whole-heartedly in special relativity's equations, Pauli could only assume that 0.8 MeV was real and had to be accounted for in order to agree with Einstein's theory. In December 1930, Pauli, wrote a letter to Hans Geiger and Lise Meitner suggesting a new "massless", "chargeless" particle for explaining the discrepancy which carried away energy without detection. Pauli died soon after. A few years later, a contemporary, Enrico Fermi, tried to publish Pauli's theory of the new particle which Fermi named the "neutrino" in the English magazine, Nature. It was rejected as being too speculative and fantastic to publish.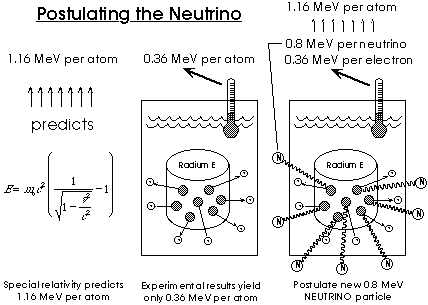 Postulating an "invisible" particle which magically carries away energy without a trace is quite a tale to tell in the land of physics. After all, no other particle in the universe is so much "nothing" with exception of the photon (which has momentum but no mass or charge and which is also continuously debated). Yet during the earlier part of the 20th century, physicists were abuzz with the fantastic stories of Einstein's relativistic world where time, space, and mass flow and change as readily as waves in the ocean. The universe turned out to be an even stranger place than anyone had imagined yet there were many experiments which confirmed Einstein's predictions. So why not the neutrino?
The Search Continues
Until now, Dr. Carezani had yet to find any experimental evidence that proved his theory. Even though there was indirect evidence (Autodynamics predicted results that special relativity could not), no experiment he found directly supported his theory.
Excited with his first find, Ricardo continued to search for other experiments and phenomena which Autodynamics could explain and special relativity could not. Unfortunately, Ricardo, like many other post-war scientists, lived in a repressive country run by a dictator making research very difficult. Resources were scarce and Ricardo searched as best he could for the next 20 years, slowly realizing that he would have to try to look outside the country with any means possible.
During these years, Ricardo worked in dozens of professions, sometimes several at once to survive. He investigated extracting germanium from a coal mine, designed a vacuum cleaner and blast furnace, manufactured electric transformers, TVs, stereos, and radios, and designed and installed a ceramics factory to make furniture. Many of these businesses were his own and the hours were long and grueling.
Through all this, his continued searching scientific publications at Bs. As. University library hoping to find proof for his theory.
In 1972, through hard work and some luck, Dr. Carezani got in touch with Stanford University's Linear Accelerator Center in Palo Alto, California. Ricardo set up a meeting between an engineer friend who was returning to the San Francisco with on of the leading Theoretical Physicist at Stanford: Dr. H. Pierre Noyes. The meeting finally took place in the first part of 1974 and was not as fruitful as hoped. Ricardo's friend did not understand the theory well enough to explain Ricardo's ideas and Dr. Noyes did not have the time to try and understand.
Despite the failed meeting, Ricardo got his foot in the door and began an intense discussion by letter about his theory, decay experiments, and possible publication of the Autodynamic Theory. Despite his great interest, Dr. Noyes' lack of understanding Autodynamics fundamentals greatly contributed to its failure to be accepted by fellow colleagues and therefore, published in important journals.
During these discussions, Peron's reign of terror was about to end with his impending death and in 1979, Argentina suddenly but predictably opened its doors to the world. Ricardo immediately began preparation to travel to California for two months to meet directly with Dr. Noyes at Stanford. Speaking acceptable English, his daughter would translate.
In the United States
The first meetings with Dr. Noyes were cordial. Ricardo found out however that two months time was not enough to explain or retrieve the needed information for substantiating his new theory. He returned to Argentina to tell his wife what she feared most: he must move to the United States.
So, in 1981, a sixty-year-old Argentine physicist ventured alone to the United States, leaving his wife temporarily behind to fight for a new theory which he had discovered some forty years before.
Ricardo got a job as a physicist and mathematician for a small company specializing in mobile radio transmitters. This gave him the opportunity to invite his daughter to spend winter vacation with him in San Rafael, just north of San Francisco. Monica, now 18 years old, had always thought of studying in the United States and found out that the local high School accepted her school credentials from Argentina. She decided to move to the U.S. with her father to continue her studies to become a doctor.
Dr. Carezani continued his meetings with Dr. Noyes. They often lunched together at Stanford, giving him the opportunity to meet other scientists. He also began to see the political nature of science in the United States. Most professors, including Dr. Noyes, worked extremely hard at building camps of followers and shunned and often ridiculed any students or scientists who opposed main stream ideas. This only lead Ricardo to greater frustration. He had hoped that in the democratic air of the United States, that he would find comrades in science and scientific thinking. What he found were clashing egos, in-fighting, and self-appointed leaders.
Having discovered that a famous physicist closed by who supposedly spoke Spanish, Ricardo contacted Nobel Laureate, Dr. Luis Alvarez of Berkeley University. Unfortunately, Dr. Alvarez did not speak Spanish, and the small mobile radio company where Ricardo was working closed. Moving with his daughter to Long Beach where she continued her medical studies, he correspond with Dr. Alvarez by letter, Monica translating.
In 1952, along with his discovery of the RaE experiment, Ricardo had formulated what he thought to be an experiment, which if performed, would support his theory of Autodynamics. The experiment was carried out at Stanford. The results however undoubtedly supported special relativity. Although Dr. Noyes claimed that this was evidence against Autodynamics, Ricardo re-examined the experimental setup and discovered that it could not have produced the desired results as it was designed. The only way to support Autodynamics predictions was to apply it to decay cases. This experiment did not involve decay making it impossible to compare special relativity and Autodynamics equations using the given experiment.
Recall the cannon and the rocket. The Stanford experiment was a clear case of external energy being applied to a system. What Ricardo needed was a more concrete case of the decay/rocket example: mass converted to energy spontaneously.
Undaunted, Ricardo worked for several years studying the results and trying to understand them in the bigger picture of Autodynamics.
With time, Ricardo eventually convinced Alvarez of the worth of his new experiment. Without warning, after having accepted the validity of Ricardo's new experiment to help support his theory, Dr. Alvarez ended his correspondence by saying that he could not perform the experiment because he was 72 and 1/2 years old and that this experiment would take years. This seemed very radical to Ricardo since the new experiment would take only a few months to set up and perform.
The New RaE Experiment
In 1984, Ricardo returned to the RaE experiment. He discovered an extremely simple yet elegant way to alter the original experiment so that it would decide once an for all whether Autodynamics or special relativity was the correct relativistic theory in Physics.
In the original 1927 experiment, Ellis and Wooster were only interested in measuring the total energy output of RaE decay. Since then, similar experiments have been carried out more than two dozen times with the same results1, yet none of them went beyond the measuring of total energy. Pauli, the father of the neutrino, also worked exclusively with the total energy output of RaE decay. Ricardo realized it wasn't enough.
In order to prove or disprove one theory or the other, Ricardo recognized that more data points would have to be taken. Intermediate points would have to be measured which would fall between zero and the total energy measured in the original RaE experiment in order to plot the exact energy curve. If the points fell on the predicted Autodynamic curve, Autodynamics would prevail. If the points fell on the special relativity curve, special relativity would prevail. There would be no in between.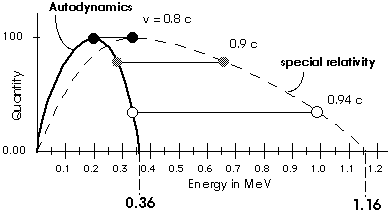 In the old experiment, the entire sample of RaE was placed within the calorimeter giving no chance of measuring intermediate points. The trick which Ricardo found was to remove the RaE sample from the calorimeter and direct electrons of different velocities into the calorimeter. This is done by setting up an electro-magnetic field and filtering out electrons traveling at different speeds using a mass spectrograph.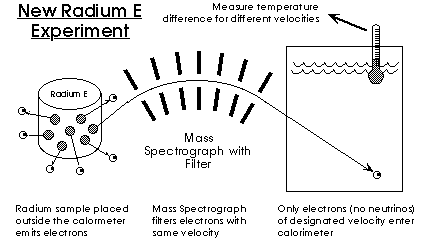 Three different velocities are judiciously chosen and plotted on the y-coordinate with respect to energy. The results will either correspond with Autodynamics or special relativity. And since the RaE sample is removed from the calorimeter, the neutrino is in effect "taken out" of the equation. It comes down to the two relativistic theories: Einstein versus Carezani.
The points have been chosen. The table below waits for the results of the new experiment to verify or dispute Dr. Carezani's theory of relativity. The points are judiciously chosen so that the difference in expected results is significant.
(predicted           (predicted
experimental         experimental
temperature)         temperature)
Electron Velocity  Autodynamics       Special Relativity
0.8 c                4.6107o C             7.6845o C
0.9 c                3.2512o C             7.4588o C
0.94 c               0.5062o C             1.4839o C